Events Details
List View
Calendar
A little help
To help you find events they are categorised by type and location the event type colour codes and icons are listed below. On and off campus locations are indicated by the icon on the top left of each event. Click on an event to see the full details.
Event Types
Training

Seminar

Conference

Book Launch

Arts & Culture

Survey

Health & Lifestyle

Charity

Social

Other

Committee Meeting

Music Event

Sport

Careers

Entertainment

Educational

Classes

Workshops

Trips

Guest Speakers

Gatherings

Film
Location Types
On Campus

Off Campus

International
Conference
2021-04-14T18:00
"Deep Learning for Compilers" presented by Hugh Leather

Wednesday, 18:00 to 20:00 Apr 14th 2021
Learn more: https://www.eventbrite.ie/e/148361197335/


Hugh will discuss recent advances in using deep learning to solve compiler issues: learning heuristics and testing compiler correctness.
About this Event
Abstract:
Writing optimising compilers is difficult. The range of programs that may be presented to the compiler is huge and the system on which they run are complex, heterogeneous, non-deterministic, and constantly changing. Machine learning has been shown to make writing compiler heuristics easier, but many issues remain.
Bio:
Hugh was a reader (associate professor) at the University of Edinburgh and is now working with Facebook as an Artificial Intelligence Researcher. His research involves all elements of compilers and operating systems, usually targeting performance and energy optimisation, often with a focus on using machine learning for those tasks. After his PhD, also at Edinburgh, he was a Fellow of the Royal Society of Engineering. Before returning to academia, he was an engineer at Microsoft and architect and team leader at Trilogy, delivering multi-million dollar projects to Fortune 500 companies.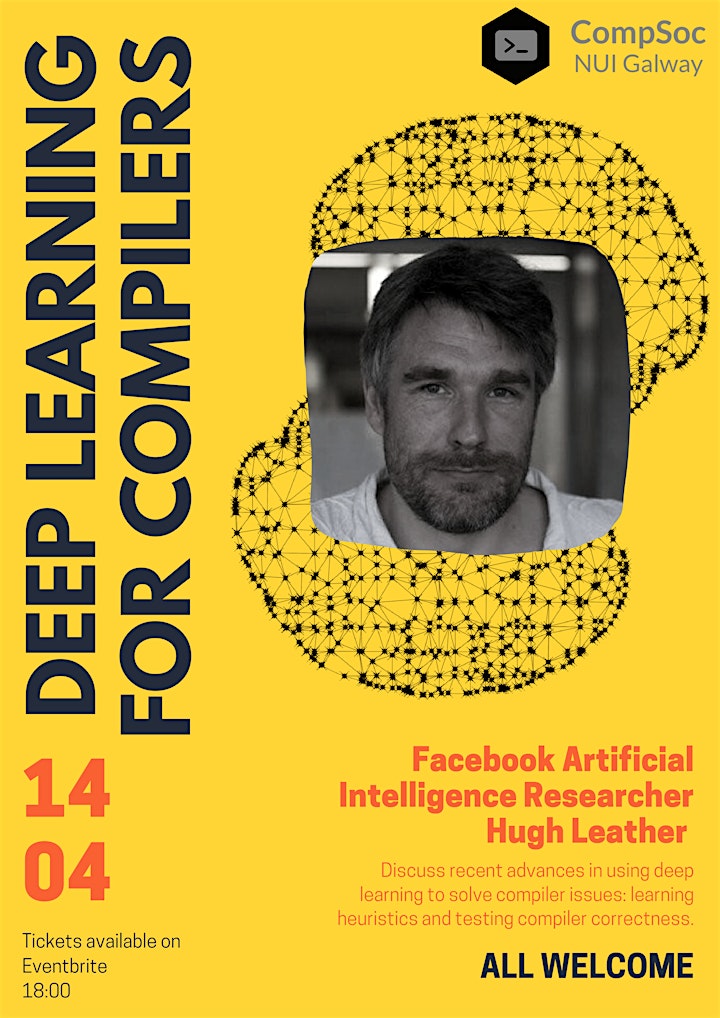 Name
Compsoc
Location
Hosted Online - Ended
Event Type
Conference
Location Type
Online
Status
Approved
Share Type
Public
Tags
Link

https://socs.nuigalway.ie/index.php?eventDetailsID=MjkxNzY=
Calendar
iCal.